Beautiful summer days are on the way and what a perfect time to visit the George Bush Library and Museum. When you round the bend coming into the parking area you will be amazed by the stunningly maintained grounds. As you gaze upon the American flags, blue skies and fountain, you will definitely feel the need to snap a quick photo or two when walking up to the entrance. Volunteers greet you with an enthusiastic smile as they guide you through the process of your visit.
Grab your tickets beside the gift shop and your adventure begins with a map with outlining the numbered exhibits you will explore.
Where did George come from? Where did he and Barbara meet? What prompted his decisions to join the military? Why did he decide to go into politics? The museum tells a lovely story from his beginnings to his days in office.
Barbara has a beautiful part in the museum with a glorious exhibit of her involvement in an array of activities as first lady from charity work to planning formal dinners. You also find a vast collection of amazing gifts given to the couple while in office.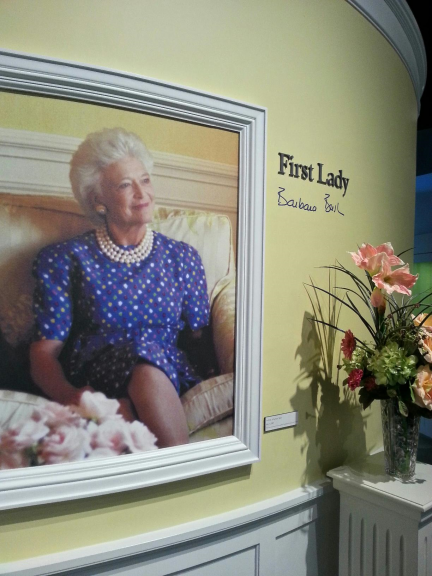 Bring a picnic basket and fishing pole to enjoy your lunch on the grounds while visiting. The gardens are meticulously manicured and the walking trail and pond make one of the most beautiful background settings for family photos. Don't forget to cross the gated bridge to find the beautiful trail and cemetery where the Bush Family will be laid to rest with their baby girl, Robin.
Visiting the museum and grounds will be a relaxing yet stimulating adventure.  A fabulous way to spend an afternoon in Aggieland with friends, family or a date weekend!
Don't forget a photo with a piece of the Berlin Wall and the stallions!
As a longtime resident and realtor in Aggieland it's delightful to explore all the aspects our community has to offer and gives me a great joy to share my experience with you. If you have any questions I'm happy to assist in your search for things to do in Aggieland along with any real estate with questions you might have about the Bryan or College Station real estate market.